With over 25 years of hands-on experience working with large health systems and medical group practices, the mednetpartners' team has deep knowledge of workflow processes and many of the top practice management systems in use today. Recognizing that even the best-of-breed systems can't always give you everything you need, the mednextengine serves to improve and enhance your experience with these systems to keep your practice running smoothly.

When you are using two separate systems such as an off-the-shelf PM system and another proprietary system, mednetpartners' integration can help automate steps, reducing the amount of manual work required in your daily workflow through seamless exchange of data between systems. The integration of these two systems results in an extraordinary user experience from which medical practices of any size and specialty can benefit.

Best of all, the mednetpartners' team of senior executive level professionals develops their technology in-house making deployments of the mednextengine fast, simple and cost-effective.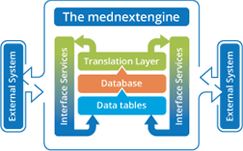 Enlarge image
Why mednextengine?
Fast to deploy and configure
Increases productivity with powerful, simple-to-use interface
Manages communications with multiple applications
Secure, robust, reliable
Support for HL7 or XML messages